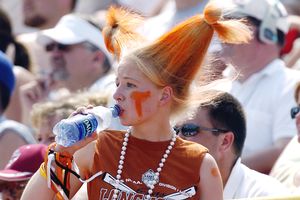 I know what you are thinking, "S.T.O.B. doesn't cover college baseball." You know what, you're right. But, like the Longhorns fan above, I, Ken, am exicted for this years World Series to get started. I don't follow a specific team, but I have made the trip to
Omaha
the past two years and this year will mark the third in a row. My girlfriend is from
Omaha
and she got me into this tradition the first year we were dating. Like pretty much everyone reading this right now, I thought it would be a waste of gas, money and time to make the trip. Before 2009, I would have agreed with you.
However, this might be one of the best, most exciting events in sports today. If you like tailgating and a laid back atmosphere, this is for you. Burgers, Brats, Beer, Baseball and new friends, could it get any better? As a member of S.T.O.B., you know my answer. No. Even better, being just a casual fan, I don't have to worry about any tears falling into that ice cold beer I'll be enjoying.
While walking to the stadium, you will see fans from all over enjoying the above festivities. Be it an LSU fan,
Texas
fan or UCLA fan, it doesn't matter. It's all about the good times once you get to
Omaha
. In fact, it's such a good time; you will see fans of those teams, even though only
Texas
earned a spot in
Omaha
, having a great time. That's the thing; your team doesn't have to be in it to have fun. Heck, my team would be the Golden Gophers, since I am a known homer, and they won't have made an appearance during the times I have visited and I still have a great time.
This year will be a special year for the College World Series. 2011 marks the first year of the new stadium, TD Ameritrade Park. This will be the new home of The College World Series after previously being held at the historic Rosenblatt Stadium for the past 61 years. The College World Series has been held at Rosenblatt Stadium since 1950 and some fans aren't very happy to see the change of venues; Jason Robertson – Omaha native, "I think it will be way more commercial and not have the "fan" atmosphere that Rosenblatt brought for so many years."
It is hard to argue with Jason, but at the same time, being an outsider and, what I consider myself to be, a College World Series rookie; I think the change will be great. I have only seen pictures of the new stadium but it looks amazing. Being from
Minnesota
, I have seen first hand how much a new stadium can affect game day experience. I think once these fans get their first taste, they will be begging for more. It will be just like old times once the fun banter between the left field bleachers and the right field bleachers gets going. I wonder who will suck more this year. Don't want to be in the dark on that inside comment? Gas up the car, grab the sunscreen and hit the road to
Omaha
.
I will be at the Saturday games cheering for my bleacher section and will report back Monday morning with my experiences. I have no doubt it will be just as amazing as the last two years. I will hopefully have some interviews with fans and locals. This is after all, the fans perspective of the College World Series.
Thanks for reading and look back Monday for part 2. Go Team!!!!
Teams in the CWS 2011:
1. UNC
2. Vanderbilt
5. USC