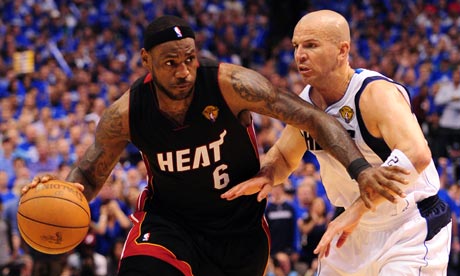 Is it fair to write a player's legacy when they are only 26 years old? No. Lebron will have 12-14 more seasons in which he can continue to write his legacy. The issue that is becoming more apparent for Lebron is that there continues to be more evidence mounting with his performances that he isn't what we thought he was/would be. The more lackluster performances Lebron puts together in 4th quarters of huge games, the deeper the hole will be that he will then need to dig himself out of. Once your reputation is set in professional sports, it is tough to change that perception and may take an inordinate amount of work on the opposite end of the spectrum to change said perception.
Lebron did himself no favors Thursday night in Dallas. Lebron didn't have a bad game overall, 17 pts 10 ast and 10 rbs, the first triple double in Heat Finals history. Unfortunately for Lebron, only 2 of the 17 points came in the 4th quarter. Lebron was yet again non existent in the 4th quarter for the Heat and again it was Wade hitting the biggest shot of the night for the Heat when he hit a three to put Miami up 4 late in the fourth. Wade's attempt at, injured, heroics again fell short though as Dallas went on a 17-4 run to finish the Heat, 112-103.
When is the last really clutch playoff hit Derek Jeter hit? I can't remember one, admittedly I am not a huge MLB fan, but my point is they have been much more few and far between of late. Jeter though is still considered clutch. This speaks to what Lebron is stacking against himself as far as approaching the level of Jordan and Kobe. In my mind for every lackluster performance that Lebron is putting up it will take 2 great performances with clutch shots to change his reputation. Even at 26 unless Lebron starts to turn the tide now, like Sunday would be a good start, it is going to be tough. Add to that Lebron has signed a deal to be on the same team with Dwayne Wade, a known clutch player, and Lebron's chances at taking the clutch shots and having the clutch performances are cut maybe even in half.
Some speculated that with Lebron's "Decision" last summer he locked himself into a ceiling of NBA status one level below the Kobes, Jordans, Russells and Magics. The more we watch this NBA Finals and see Lebron showing many of the concerns raised last summer to be possibly true, the more we see this maybe the reality for Lebron. We know he has the talent to be on that elite level, but it takes something more than freakish athletic ability and skills to be on the level of the NBA's elite. Someday we will maybe look back at this Finals as the start of our realization that Lebron doesn't have that "something". Then again, Lebron still has two games left to try to pry the "something" of his head banded head.