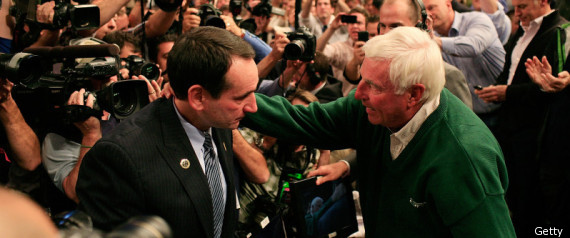 The mentor has been passed by his protege.
There is a new all time leader in wins in Division 1 college basketball, his name is Mike Kzyzewski. It wasn't easy but in the end Duke came out on top over Michigan State in Madison Square Garden, 74-69. Bob Knight was doing color commentary on ESPN, the man who held the record prior to tonight at 902 wins. Knight, as we have all heard 1000 times now during K's run to the record, was K's coach and mentor which made this moment all that more special for Coach K and Knight. I will write more about Coach K, this accomplishment and all of his accomplishments at a later date. Tonight, let's just take a look at this game for the game itself and what I saw.
- Mason better than last year...still needs to improve.
His line wasn't all that impressive tonight, 7pts, 4 rbs, 2 blocks, 3 to, 1-3 fgs and 5-10 fts. Yet, it was the way Mason played that made me still think he is much improved. In year's past, a physical game like tonight's would've led to Mason getting into real early foul trouble and then him being irrelevant the rest of the game. Tonight even though his offense wasn't clicking at 100%, Mason kept his head in the game, played tough defense, changing shots and forcing Michigan State bigs to miss some easy shots inside. Also, Mason only got 3 shots up due to being fouled repeatedly once he started his move to the basket. He needs to continue to work on his free throws to make teams pay more for sending him to the line 10 times. I am pleased with Mason's play, yet not thrilled. I still feel Mason is the key to Duke being an elite and title contending team, if he plays more up to his potential Duke will be tough to stop, if he continues to underwhelm and be inconsistent Duke will never fully develop.
- Austin Rivers had a freshman night.
Post game, I received a text from part time STOB contributor Luke, who asked "Did Austin Rivers even play tonight?" I understand his question, if you were flipping back and forth between Duke vs Michigan State and Florida vs Ohio State you could've missed his very small contributions. Austin got into foul trouble and all in all wasn't effective. 5 points on 1-7 shooting, with 3 assists was a night that Rivers will look to forget, it was his 4 fouls he picked up and the fact he seemed to be struggling finishing with the physicality of the game that led to his off night. This will be a good learning moment for Rivers and you could see in the second half a moment when Coach K called his freshman phenom over to give him some words of encouragement. A bounce back game against Davidson Friday is to be expected from Rivers who is a fierce competitor.
- Andre Dawkins gave me flashbacks of JJ Redick.
Duke loses this game tonight without the huge contributions of Andre Dawkins, 26 points on 8-15 shooting, 6-10 from three and 5 rebounds. He was on fire throughout, coming off screens ala old #4 and popping the three in defenders faces. Also went JJ after hitting a three when he jawed at the Michigan State defender. I like the emotion that Dawkins played with, I like his aggressiveness and I like how Duke was running plays for Dawkins to get more shots. Andre needs to have this type of attitude and effort night in and night out for Duke, he has been streaky in his career and now as a junior it is time for him to be more consistent.
- Coack K's defensive halftime adjustments show why he has won 903 games.
In first half Duke was being beat up inside. Michigan State was scoring at will with their big men. Getting great position on post ups and drawing Duke's big men on the drive and dishing it off to their bigs for easy finishes. The second half was a different story, Coach K felt his team wasn't physical enough in the first half and he made it clear that wouldn't be accepted. While Michigan State was getting deep position it wasn't always great scoring position in the second half, also on the drive Duke would force the Michigan State guards to shoot the floater instead of stepping up and leaving the Spartan bigs open for lobs and easy buckets that they got in the first half. A great adjustment by Duke in the second half that led them to a 20 point lead at one point.
All in all a good solid effort for Duke. Not amazing, but a good performance and a great accomplishment for Coach K. Still lots to improve on, they will need to shore some things up Friday against Davidson prior to heading to Maui to take on a loaded field.
Stay close to STOB for a Coach K write up coming soon this week.