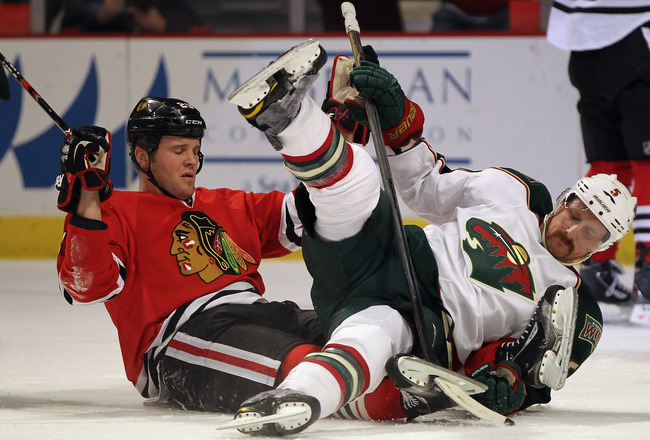 Plain and simple the Wild suck right now.
Today there is another guest contribution. This one comes from a guy we have had here before in Paul Rome, he is our resident great hockey mind. It's been tough for him lately with the Minnesota Wild sinking like that cruise ship in Europe with the gutless captain. I think the captain of the Wild's ship will stay on the sinking ship, but he may wish he could jump off at this point. Let's get the scoop on what is wrong with the Wild from Paul.
"Cuz I love the longshots, and the left out lost causes. Hanging out in the back of the pack with the dark horses." Country Rocker Gary Allan says it best when describing the team of 18,000 and their beloved Minnesota Wild in his awesome, smash single "Get Off On the Pain." Why does a song about a down and out soul performed by the maverick of country music sum up the Wild?? I'll tell you why.
Longshot-When a friend of mine was in Vegas this past fall, I asked him to place a bet on the Wild to win the Cup for me. The Wild were 60 to 1 odds, which was the 5th lowest odds of all the teams in the NHL. My $5 will hopefully turn into $305, but I ain't betting on it.
Left out Lost Causes-The way things are going for the Wild as of right now, I can't think of a better way to put it into words.
Hanging out in the back of the pack with the Dark Horses-Believe it or not, this team has the making to be a dark horse if they can somehow get their foot in the door known of the Stanley Cup Playoffs. Not too long ago, this team was top dog in the NHL and if they can get the same level of goaltending they got in October and November, this team can be that dark horse, just hanging out in the back of the pack.
So my buddies from the STOB crew came to old Mr. Paul Rome and asked, "why are our favorite ice gladiators falling from grace?" Well, feeling bad for their hockey ineptitude, Paul Rome once again decided to help their cause and expand their hockey minds. For all you out there reading this, I know y'all know your hockey, so this article is intended for the STOB boys who are lacing up their skates for the first time and grabbing hold of the skating stroller. For the rest of you, I hope y'all enjoy my thoughts on the plight of Yeo and friends.
-Pain, No game
I know that the real saying is, "no pain, no gain", but for the Wild, it just doesn't apply. For those of you out there that think injuries are just an excuse, you're wrong. There's a reason Tom Brady's the #1 QB in New England and why Ryan Mallet is a #2 or #3 or whatever he is. Same can be said for why the Wild were doing well when healthy and why they are doing poorly with four of their top six forwards spending a lot of time in the training room.
For starters, Mikko Koivu has missed I believe six games thus far this year with the Wild going 0-4-2 in those games and scoring only five goals in that span. Remember during the stretch run to the playoffs last year when the Wild were on the bubble for the 8th and final playoff spot? Remember how the wheels fell off the Oregon Trail wagon when Koivu broke his hand or finger (can't remember) and missed a lot of time. The Wild went down the chutes, but could never climb up the ladder and missed the playoffs again.
Setoguchi has also missed significant time and the team collected only 9 of a possible 26 points in his absence (3W, 7L, 3 OT/SL). French Canadians PM Bouchard and Guy Latendresse were both averaging a point every other game or better and on a team starving for goals, that's a killer. Rising D man Spurgeon has missed some time too, and that isn't helping the cause.
-Can't Stop Them All
I'm not hating on the goalies here, but I thought I'd point out a rapid decline in their save percentages over the past month.
Backstrom Wins Losses Saves %
Harding Save % by Month
Early on this season when the Wild were white hot, Backs and Harding were stealing games nightly for the Wild. I think this is sometimes overlooked when viewing the Wild's early successes. Remember Harding going 4-0-1 to start the season and only giving up seven goals? Backstrom sat on the bench for 5 games straight and then Yeo inserts him into the line-up and he pitches a 41 save shutout at Calgary? Hell, even anti-hockey Ben from the STOB blog wrote an article about these two goalies and how well they were playing. Surprisingly, it was good.
For Minnesota to get back to the playoffs, the two Wild goalies are going to have to revert back to their play at the beginning of the season because this team does not score enough to steal games.
-Veteran Detriment
This is just my opinion, but with the return of Zidlecky and Zanon, it seems they have been the kerosene for a Wild BBQ. The young D men of Falk, Spurgeon, and Scandella were playing well and surprising a lot of people as the Wild got off to that nice start. Then the Z Men came back and since they don't have an uncanny ability to heal like an X Men I know (proven by their time on injured reserve), they just don't seem to playing up to the level they should be.
It's no secret Zids has been in Yeo's doghouse with his sloppy play with the puck, but here's some numbers for you. Zids missed games from Nov. 16 to Dec. 13. During that time, the Wild played .500 hockey. When he returned from a month long hiatus in mid-December, the team has plummeted to a 2-9-5 mark.
Zanon could play better in my eyes, but I just think all hell broke loose when Yeo had to start deciding between playing the young pups and the very grizzled veterans on the blue line.
-Bring The Heat
This one is short and sweet so I'll just say it. Dany Heatley is on pace to set a career worst average goals per game. We need goals and he was brought here to do that. The 13 goals he has scored thus far have been very clutch, but more is needed for a team that has historically struggled with scoring.
-Shot Down in Showdowns
In my Wild preview at season's start, I stated the Wild need to be better in OT and shootout situations to sneak into the playoffs. This season, they have won one game in OT and have lost two. In October through November, the Wild were sharpshooters and Backstrom had overcome his Achilles heel as the Wild were 4-1 in shootouts. In December and January, the completely the opposite in shootouts (1-4).
To have any chance to crawl into the playoffs, a low scoring team has to be good in shootouts and .500 just won't cut it. They need to be better in these pressure cookers or we're looking at another boring April (yes, baseball is boring).
To sum this whole spiel up, my favorite artist Mr. Gary Allan might sum up my rant best by saying that for the current state of the Wild, "things are tough all over," and if those "things" don't drastically change the Wild will once again miss the playoffs.
I'm Paul Rome and I am out!!