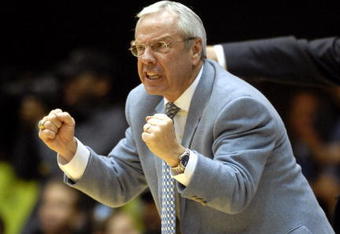 Grrrrrr....
Ok, this is really just a quick post to tell you about a post I will be doing tomorrow but at the same time I didn't really want to title this "Upcoming Post blah blah", so I gave it a real title as if there really is a great post here. I am sitting here just under three hours away from Duke @ UNC, a game that for a Duke fan (like me) or a UNC fan (my buddy J) is exciting and fun and something you look forward to, but then at the same time something you dread if your team loses because it just hurts more than pretty much any loss due to the rivalry. As I get older and more mature the pain is less as I realize it doesn't mean crap, just as no sports mean crap and there are (to stick with our blogs theme) less tears in my beer but at the same time I am still a sports fan and competitive and want "my" team to beat "your" team.
When Duke beats UNC or better yet sweeps a season series, it makes me almost as happy as when they've won the National Title. But here I am, and I am probably the least enthusiastic about this Duke team than any since the McRoberts/Paulus era and it sucks cause I lack any confidence in this year's team to go into UNC and pull out a win. They can't defend, they are at times a bit dysfunctional on offense, and coming off a loss to freakin Miami (AT FREAKIN CAMERON) it is easy to see why I am lacking confidence going into tonight. The last time Duke took on a top 5 team in the country on the road they were embarrassed by Ohio State earlier this year.
So tonight I'll be taking notes, if you've read Bill Simmons diaries before, where he kind of gives you his feelings or observations throughout the game, that is kind of what I am planning for a post tomorrow. It'll either delve into the depression I feel as I see Duke getting crushed, or the sheer joy in watching Roy Williams get pissed. We will see which way I take it, or if I start it and it sucks I'll write something else tomorrow and all 4 of you that read this post will be disappointed (or not ) that I didn't write this Duke fan's Duke/UNC game diary. Either way...talk to you tomorrow...wish me luck.