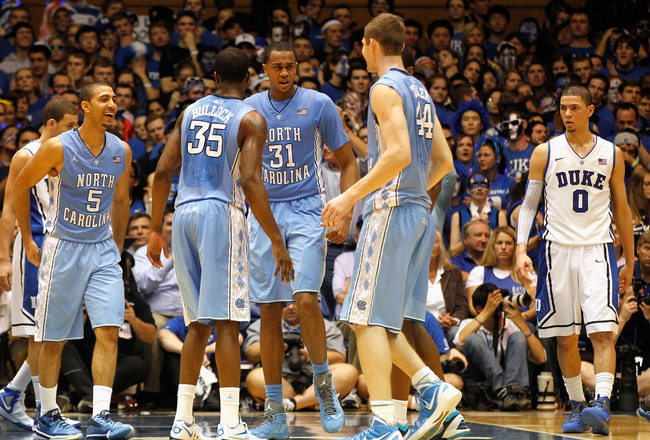 No magic from Rivers this Saturday as Duke got run out of their own building.
Last night didn't work out the way I'd hoped. For starters, I was just finally recovering from a tequila/Pacifico/Gin mix hangover from a STOB Mexican themed party the night before. I know you're asking, "Gin? At a Mexican themed party?" And I hear ya, but I had a bottle laying around and once it's in the glass with the lime in there, it passes the theme test. I plopped down to watch the game in hopes that just as my headache and overall rottenness was starting to retreat from my body, Duke would build on those good feelings and once again beat the Tar Heels. It was pretty obvious, pretty early, that those hopes wouldn't come to fruition. On this night UNC had the upper hand and wasn't going to squander it late, like in the first match up.
So it was back to the Ibuprofen bottle for the eighteenth time that day as Duke was trounced from the very opening minutes and that headache I thought had retreated, was now back.
On Friday I laid out the keys of the game for Duke and UNC. I wish Duke had adhered to those keys a bit more and UNC had ignored them, but that didn't seem to be the case in the 88-70 beat down by UNC.
Key's to the Game Review:
Keys for Duke:
Plumlees control Henson and Zeller inside - In the first match up, the brothers Plumlee were dominated by the UNC big's to the tune of Zeller/Henson combining for 35 points and 28 rebounds in comparison to the Plumlee boy's 11 points and 17 rebounds. They were bailed out by Rivers' big game, but they must control the Zeller/Henson combo defensively and at least give Duke something on the offensive end.

Result:

Zeller/ Henson- 32 points 20 rebounds
Plumlees - 33 points 15 rebounds

Actually the main, if not only, bright spot for Duke in this game was the play of both Miles and Mason Plumlee. Miles on Senior Night had 16 points and 11 rebounds in a starting role, while Mason off the bench led Duke in scoring with 17 points and also grabbed 4 rebounds. Zeller and Henson weren't as dominant as in the first match up, but really didn't have to be. Moving forward in the ACC and NCAA Tournament, if Duke can get these types of performances from the Plumlee brothers, their hopes of making a long run in said tournaments greatly increases.
Shoot the 3 well...again - Out of 27 field goals made in the first meeting, 14 of them were three point makes for Duke. Safe to say they lived and died by the three, and won the game on a the fourteenth. It's no secret that the three is as important to Duke as it is to almost any team in the country. An off shooting night will spell death for the Dukies.

Result:

Duke 3pt shooting - 6-21

The old live and die by the three bit the Dukies tonight right in the ass. After reading about the Plumlee's big night though it isn't a shock that Duke didn't shoot well from downtown if Mason and Miles were the top two scorers, it probably means none of the shooters got it going. The worst offenders in this category were Ryan Kelly 0-5 from three and Austin Rivers 1-6 from beyond the arc.
Get big contribution from Andre Dawkins - Dawkins is one of Duke's most lethal scorers and definitely lethal shooters. When Andre plays well, Duke wins. In the 13 games in which Dawkins has scored in double figures, Duke is 12-1, with the only loss coming in a buzzer beating heartbreaker by Florida State. In Duke's most lopsided loss to Ohio State (85-63), Dawkins played 19 scoreless minutes. Dawkins is a huge key for Duke and takes a lot of the scoring pressure off of Rivers and Curry if he gets it going, and also plays a better all around game win his shot is falling.

Result:

Andre Dawkins' line - 10 minutes, 0-1 shooting, 1 rebound, 1 foul.

The biggest fail of the night by far for Duke was the play, or lack thereof, of Andre Dawkins. He didn't get much time, and just like in Duke's other big loss this year against Ohio State, ended up with a goose egg in the scoring column, as well as in many other categories. It can be tough to find time for Dawkins when you also need to get time at the wings for Rivers and Curry and when Ryan Kelly slides to the SF spot, but it will be important for Duke to get Dawkins involved moving forward as the numbers don't lie that they win when they do.

Success on the Keys to the Game: 1/2 out of 3.
Keys for UNC:
Don't forget about Zeller - Tyler Zeller had 19 points in the first half against Duke in early February, in the second half he only scored 4. UNC has a tendency to forget about Tyler Zeller, and that is usually to their detriment. Zeller is a superior big man to any of Duke's and showed he can have his way with them in the previous meeting's first half. The guards of UNC cannot forget to feed him, to keep UNC getting easy buckets and the Plumlees in foul trouble.

Result:

Zeller's line - 26 minutes, 19 points, 10 rebounds

Zeller took the 3rd most shots for UNC and was given the ball a good amount in the post when he was in the game. Didn't ever have a dominant stretch as he did in the first half of the first match up, but also never dissapeared as he did in the second half of the first match up. Zeller was solid all the way through even with the Plumlees playing well for Duke.
Play your game, all game - To me, UNC lost the last game mainly because they stopped playing their run and gun style and started trying to melt clock. Roy Williams coached squads play the game well in one style, RUN! It can hurt any team, with any style, to stop running their normal offense and trying to melt the clock. It gets you out of your offensive rhythm and once the game tightens back up (as it usually does) you can't get it back. This is even more true for a fast paced squad like UNC, and it showed last game. Roy needs to keep the peddle to the metal and put Duke away if they have a lead, late in the second half.

Result:
Scored 88 points.
While Roy did pull up on the reigns again in the last 10 minutes of the second half, electing to run 15-20 seconds off the shot clock every half court possession, they were able to make some shots to quell any Duke runs late. It almost back fired again as UNC had become a bit stagnant and Seth Curry had an open look at a three with Duke down eleven and 5:21 left in the game. Had Curry made that shot and gotten Duke within 8, things could have been different and we yet again would be talking about Roy's decision to slow down his Tar Heels.
Handle the Crazies - The best way to handle the Cameron Crazies, is to put them on their seats early. If UNC can get an early lead and take some of the piss and vinegar out of the crowd, they will have a more pleasant evening. Even though you quiet them early though, you need to be ready for the "Duke Run" that will get them right back into it, as UNC learned last year when Seth Curry lead a 14 point second half comeback.
Result:

Started game on 24-5 run, never really looked back.

Blame it on Duke's bad shooting or good defensive and offensive execution by UNC, whatever it was, it ended the game early for all intensive purposes in the first ten minutes of the game as the early lead was too much for Duke to overcome. It quieted the raucous crowd and UNC handled a couple Duke runs and didn't let the momentum and the crowd overcome them in the second half.


Success on Keys of the Game: 2 1/2 out of 3.


Prediction:
You know I have to go with my heart on this one. I have to take Duke. Though neither team is playing their best ball right now, I think Duke finds a way at home to pull out the victory. I expect a big shooting night from Andre Dawkins and a strong performance from senior Miles Plumlee in his final game at Cameron Indoor.
Duke 81 - UNC 75
Result:
Right on Plumlee, way wrong on Dawkins and way wrong on the prediction.

UNC 88 - Duke 70


So now it is Conference Tournament Week, and these two very well could, and probably should, meet again in the ACC Tournament Title game next Sunday. If they do, that game will end up being the deciding factor of which of these two gets the #1 seed in the NCAA Tournament. UNC has the upper hand if they at least make the title game and Duke doesn't win it, they should seal one of the four number one seeds. For Duke, it is pretty simple; win the ACC Tournament and get the one seed, lose anywhere and your a two.