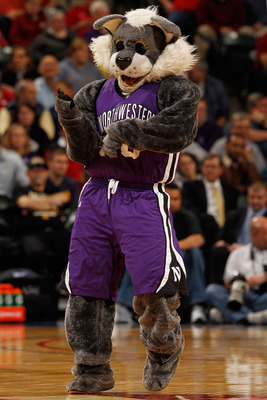 Willie wants to dance!
73 years and yet to make a trip to the NCAA Tournament. The same tournament many complain lets too many teams in (68 of 344, almost 20%) and the Wildcats are yet to make it to the Big Dance. This weekend that all could change. Currently
Bracketologist (wish I had majored in Bracketology in college...) Joe Lunardi of ESPN
has the Wildcats (18-12, 8-10 in the B1G) as one of his "last four in" if Selection Sunday were today. Unfortunately for the Cats, it isn't today. What is today is a make or break game against another desperate team in Big Ken and Paul Rome's Minnesota Golden Gophers (18-13, 6-12 in the B1G).
The average lifespan of a cat is 13 years, Willie the Wildcat (basketball kitty) is 73 years old, he is midway through his fifth life of the nine lives that all cats get, so he only has 44 more years, or a little over 3 cat lives left. So for ol' Willie's sake, I say, "F the Midget Squirrels of Minnesota, and GO CATS!"
A realistic goal for the Cats would be to beat the Gophers today and then stay close and have a chance against Michigan tomorrow. After that, play "wait and pray", hoping that all the favorites with their tickets already punched to the Big Dance, win their respective conference tourneys and Northwestern sneaks in. If Peyton Manning isn't playing with the Colts anymore, then the NCAA Tournament can't be played without the Wildcats (of Northwestern...since there is 1000 NCAA teams (Wait you said there were only 344 total? Shut it!) with Wildcats as their mascot) anymore!
If these Wildcats didn't want to have such a "wild" weekend full of prayer, they could just beat Michigan on Friday and essentially punch their ticket right there and then on the court. Unfortunately, they kind of suck and Michigan is relatively good. Yeah, the Cats kind of suck and Willie the Wildcat is the first to admit it if you get him high enough on catnip. So you may be asking, "Why do you want them in the tourney?" To that question my answer would be...73 f-ing years man! Many people have lived good long lives and died of natural causes having never seen a Northwestern basketball team in the NCAA Tournament, hell Willie has died 4 times. So, even though they kind of suck, also aren't any fun to watch, probably will lose in the first round, and in the end will be relatively insignificant to the tournament as a whole, I suggest you root for the Cats too.
Now this maybe tough if you're a Gopher fan, but c'mon and live with reality that this year's team is horrible and let them end this depressing season today. Don't try to get your false hope's up again by rooting for them to try to get some kind of B1G Tournament run going and somehow miraculously make the NCAA field. Let me save you the heartbreak now by saying, "No chance in hell buster!" Or in the words of Rick Pitino, "Kevin McHale ain't walking through that door." Enjoy what opposing fans have enjoyed 13 times this year, rooting against the Gophers and having fun and calmness in the realization that if you have an eight point lead with five minutes left, there isn't a chance Minnesota will be able to get out of their own way enough times, on consecutive offensive possessions, to even threaten the lead of your team.
For Willie, all together now STOB Nation, "LET'S GO CATS! LET'S GO CATS! I CAN'T HEAR YOU! LET'S GO CATS! LET'S GO CATS!"