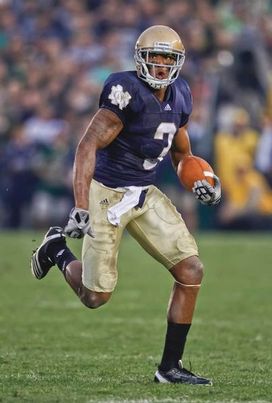 Floyd shoots up the board along with many other changes in version 4.0
We are just over a week away from the NFL Draft actually taking place.  So with that let's get another version of STOB's NFL Mock Draft.  It seems that after the first two picks things are really up in the air this year.  Just when you think you have figured something out, all of the sudden people are talking about Ryan Tannehill being drafted at #3 after a Vikings trade.  The teams themselves, outside of likely Indianapolis and Washington, probably don't know what the heck they are going to do.  Yet, that won't keep us from taking our fourth guess at what will happen.
A change from previous mocks, I will not be doing explanations for picks outside the top 10.  Sowie, but I doubt you read them anyways.
Yup, still the Luck-ster.  Could they take RG-III?  Yes, but I think the Colts aren't going to take the riskier option and will go with Luck.  I think the likelihood of the Colts taking anyone else other than Luck is the same as Jim Irsay never sending out another stupid tweet...3...2...1...and he just sent another one...Luck is the pick.
2. Washington Redskins - Robert Griffin III QB, Baylor
Three 1st round picks and a 2nd rounder all to move up from 6 to 2 and ensure they will get their guy, Robert Griffin III.  Now the question becomes less of where will RGIII go, and more will the Heisman Trophy winner make the Redskins look good by trading away the next two years of 1st rounders?  A worry of mine is, after John Elway, Shanahan hasn't exactly been the greatest QB coach of all time.  He made his name with Elway, and let's be honest, Elway could make me look like a genius, especially when you throw in Terrell Davis and Shannon Sharpe.
3. Minnesota Vikings - Matt Kalil OL, USC
It's Kalil, unless the Dolphins get really trigger happy about Ryan Tannehill and blow the Vikings socks off with an offer to move ahead of the Cleveland Browns to take him.  That'd be a stupid move by the Dophins, so I don't think they do that.  Just go out there, suck again this year and pick Matt Barkley next year Miami, that's the way to go...but nah they won't do that they'll flail around and reach for Tannehill at 8 and suck at QB for that much longer trying to give him a chance.
4. Cleveland Browns - Trent Richardson RB, Alabama
This one stays the same from my first mock draft.  They go with Richardson, Hillis is now in Kansas City and hope McCoy makes a jump with a full off season with the coaching staff, something he did not have last year with the lockout after a promising rookie campaign.  Justin Blackmon is the other option and so far through free agency the Browns are yet to pick up a WR.  At this point for me it is a coin toss between the two and I can see either being the choice for the Browns.  To me though the reasoning is the same.  Get McCoy some offensive firepower and help.  I don't see the Browns making the rushed choice of ditching McCoy for a monster question mark in Tannehill.
5. Tampa Bay Buccaneers - Morris Claiborne CB, LSU
A new coach will be in town and Tampa will add depth behind the very old Ronde Barber by acquiring the top CB in Morris Claiborne from LSU along with the free agent signing of Eric Wright.  Doesn't really matter what the Bucs do on D though if Josh Freeman doesn't find his 2010/11 game and lose his 2011/12 game that stunk along with WR Mike Williams.
6. St. Louis Rams - Justin Blackmon WR, OK State
Now loaded up on picks for the next few years and another 2nd rounder in this draft the Rams look to pair a #1 WR with Bradford.  Blackmon is a beast and as long as Bradford doesn't break in half every other play, the Rams should have a great pairing with these two youngsters.  Signing Cortland Finnegan allows the Rams to go offense here and not look into Dre Kirkpatrick.
7. Jacksonville Jaguars - Quinton Couples DE, UNC
Mario Williams has signed with Buffalo.  The Jags were looking to possibly dip into the Williams sweepstakes but with him gone, they look to the draft and get the top DE in the draft in Quinton Couples.  He isn't Mario, but he isn't going to cost 100 million dollars either (yet?).
8. Miami Dolphins - Ryan Tannehill QB, Texas A&M;
Peyton Manning didn't follow Lebron and the many other stars of other sports flocking to Miami, choosing instead to head to the rocky mountains.  Well at least they can get Matt Fly...oh wait he went to Seattle.  Well that leaves them with either FA signing David Garrard or another run with Chad Henne, OR they go with Tannehill at 8.  It is a bit of a stretch, but it is a huge need and with the aforementioned veterans they will have some time to groom the new rookie.  I think it's a bad choice, but it is the choice they'll make.
9. Carolina Panthers - 
Dontari Poe DT, Memphis
Offensively the Panthers have a ton of weapons as it seems the Cam Newton risk has become a huge reward.  Taking a defensive tackle in Poe will help anchor their suspect defense.  Panthers need to get their defense solidified and then could be a serious playoff contender next year, Poe is a start.
10. Buffalo Bills - Michael Floyd WR, Notre Dame
Stevie Johnson and David Nelson are nice, but Michael Floyd would add more of a playmaker to the Bills current WR core.  Floyd will help add depth at WR For the Bills and be a huge target for Fitzpatrick.  The Bills also could luck out and have Justin Blackmon drop all the way to them at 10, so don't be shocked.
The Rest of the First Round:
11. Kansas City Chiefs - 
Fletcher Cox
 DT, Mississippi State
12. Seattle Seahawks - 
Melvin Ingram OLB/DE, South Carolina
13. Arizona Cardinals - Riley Reiff
 OT, Iowa
14. Dallas Cowboys - Mark Barron S, Alabama
15. Philadelphia Eagles - Luke Kuechly ILB, Boston College
16. New York Jets - Courtney Upshaw OLB, Alabama
17. Cincinnati Bengals - David DeCastro OG, Stanford
18. San Diego Chargers - 
Nick Perry DE, USC
19. Chicago Bears - Andre Branch DE, Clemson
20. Tennessee Titans - 
Dre Kirkpatrick CB, Alabama
21. Cincinnati Bengals - Stephon Gilmore CB, South Carolina
22. Cleveland Browns - Jonathan Martin OT, Stanford
23. Detroit Lions -
Cordy Glenn OT, Georgia
24. Pittsburgh Steelers - Michael Brockers DT, LSU
25. Denver Broncos - 
Coby Fleener TE, Stanford
26. Houston Texans - Kendall Wright WR, Baylor
27. New England Patriots - Alfonzo Dennard CB, Nebraska
28. Green Bay Packers - Jerel Worthy DT, Michigan State
29. Baltimore Ravens - Peter Konz C, Wisconsin
30. San Francisco 49ers - Brandon Boykin CB, Georgia
31. New England Patriots - Rueben Randle WR, LSU
32. New York Giants - Mike Adams OT, Ohio State
So there you have it STOB'ers, that is the entire 1st round of the 2012 NFL Draft.  Let me know what you agree or disagree with in the comments section below.  Also this is only version 4.0, so there is possibly more to come within the final week of preparations for the draft next week.

Gambling STOB'ers!  Head to BangtheBook.com to make your NFL Picks today!