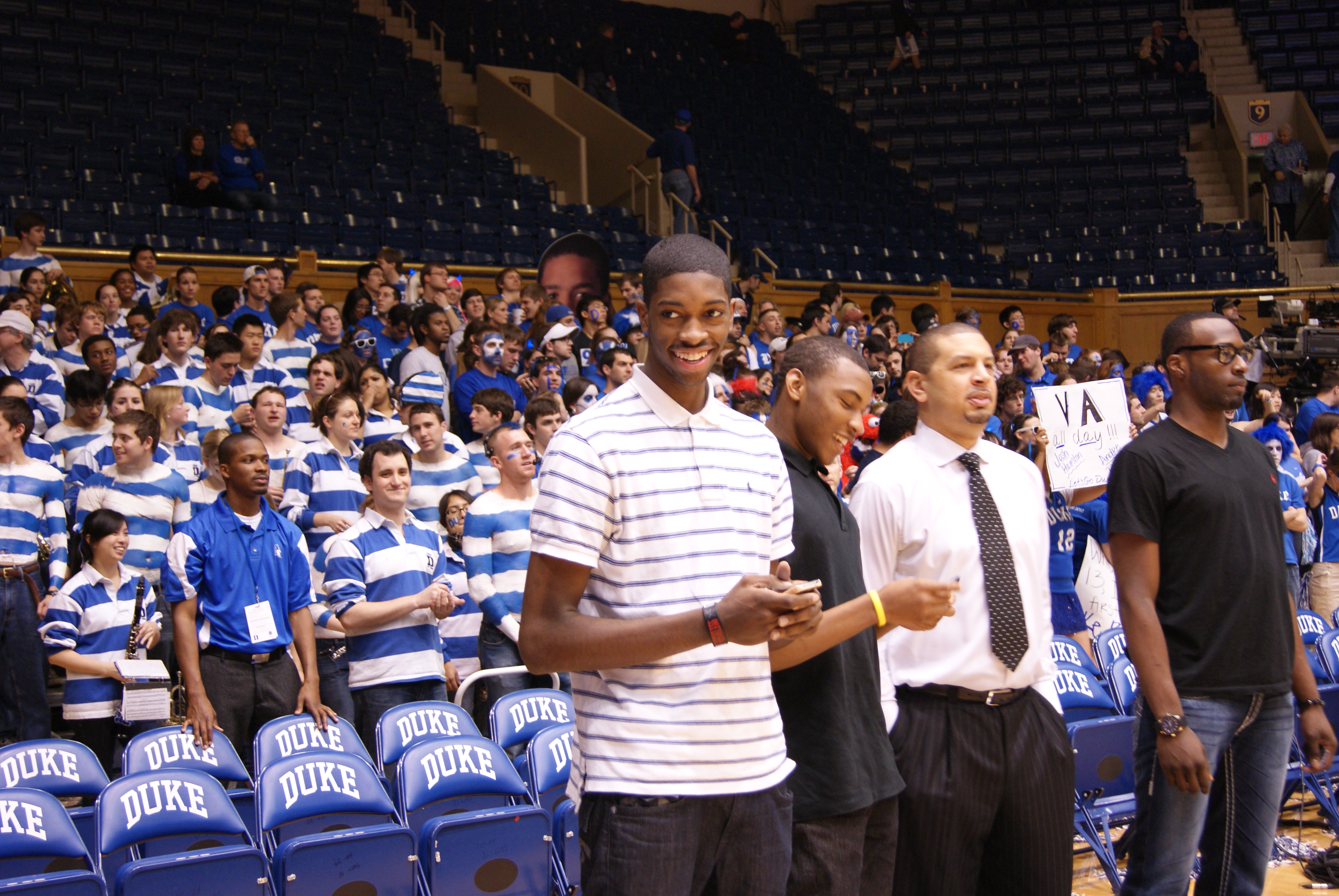 Amile Jefferson (left) and Shabazz Muhammad (right) visited Duke together...will they commit to Duke together?
If you are a fan of UCLA, Duke or Kentucky, you are waiting until 6:30 central time for the announcement of the #1 high school basketball player in the country in Shabazz Muhammad on ESPNU. I am obviously one of them, as a Duke fan. Every year it seems I sweat out some kids recruitment for Duke. As if me sitting here, Googling the kids name 1000 times a day to see if there is any inside info prior to his official announcement and thinking that for some reason that level of obsession by me will in some way help the kid commit to Duke.
Last year it was DeAndre Daniels, the year before it was Harrison Barnes, the year before that it was John Wall. Every time I have thought Duke had the inside track only to be left wondering what the heck the kid saw in UConn, UNC or Kentucky that was better than my team? More than that though, I wonder why I got so wrapped up in something so stupid prior to the announcement? Why can't I just wait until the announcement and go from there?
Because I am obsessed...that's why.
So, here we are again, I am hoping like crazy that this time the big time recruit that dragged his decision out until spring decides to go to Duke. Once again I have my hopes up far too high. Once again I am reading stories online and interviews of Shabazz and trying to read into his words far too much.
"He said, 'I want to win a championship'...does he think Kentucky has the better chance than Duke? And if he wants a title that means UCLA is out...right?"
Ten minutes later,
"OH BOY! HE IS WEARING A BLUE SHIRT IN A TWITTER PIC! THAT MEANS HE IS GOING TO DUKE!.....Oh shiat...or Kentucky...and it is actually kind of a lighter blue...so that maybe UCLA..."
The problem this year is that I am not just waiting on one guy, while Duke already has a stacked recruiting class with or without the commitment. This year Duke has Rivals.com's #18 overall player in Rasheed Sulaimon committed, but that is it. Duke is still waiting on decisions from Tony Parker (#27 on Rivals) and Amile Jefferson (#36 on Rivals). So not only am I waiting on Shabazz, but two other players as well. Up until yesterday, I was also awaiting word from Duke junior Mason Plumlee on whether or not he was heading to the pros or staying at Duke for his senior season. Lucky for Duke and myself, he is back. Now I sit and wonder how that will affect the decisions of the possible recruits. It never ends.
If you are a fan of a major college program, whether it be basketball or football or really any sport, you know the pain that recruiting and leaving early for the pros decisions can cause as you wait answers. The outlook of a team can go from possible championship run to bubble team in basketball within the month of April with all the decisions needing to be made. Duke is in that situation this year.
In reality, for Duke, if they get Shabazz Muhammad to commit, they are instantly top five worthy and a title contender. If they miss on Shabazz but land Parker and Amile, they are top ten but more of a long shot at a title. If they only get one of the recruits they are on the edge of the top ten. If they miss on them all they may be more towards top twenty come the preseason rankings and will have one of their worst recruiting classes in a very long time.
So as we say so often, there will be some sports tears in my beer tonight if Shabazz goes anywhere other than Duke.