[caption id="" align="aligncenter" width="400" caption=""Once Coach K started recruiting me, I did not talk to an assistant coach," Jefferson said. "That definitely shows the coach wants you, and every conversation I had with him seemed genuine. I felt like I can become a better person and player at Duke University.""]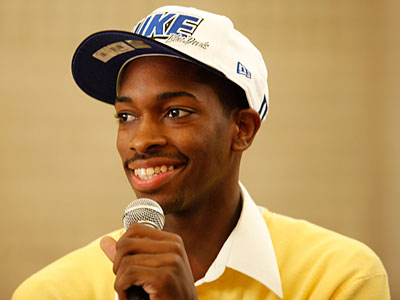 [/caption]
Shock.
That was the feeling I had when I read this morning that Amile Jefferson, (ESPN's #25 ranked player in the 2012 class) a 6'9" 190 pound (get the boy a sammich) power forward from Philly, picked Duke as his college of choice on Tuesday night.  As a Duke fan I am very happy to add a big man to the team, especially a McDonald's All American.  Getting a power forward to come in and hopefully help fill the spot left vacant by the graduation of Miles Plumlee and transfer of Michael Gbinije is huge.    More than that though, I am just happy to hear another big time recruit turned down Kentucky and went elsewhere this spring.
Shabazz Muhammad picked UCLA.
Amile Jefferson picked Duke.
Anthony Bennett picked UNLV.
They did land Nerlens Noels, ESPN's #1 ranked player in the 2012 class, but he is currently
under investigation over funding of unofficial visits to campuses.
  So even as the fuzz still falls from their recently cut pieces of championship net at Kentucky, all is not well.  Their starting five bolted for the NBA and replacing them all hasn't been as easy as it usually seems for Calipari.
They do have the second rated recruiting class according to ESPN, but that takes a huge hit if Noels is ineligible for an extended period of time due to the NCAA's current investigation.
For myself though, I am just happy that not only did Kentucky not get Amile Jefferson, but old slick Calipari lost Jefferson to Coach K and Duke.
How does Amile Jefferson fit in at Duke you ask?  Good question.
Currently I see Jefferson battling it out with the likes of Josh Hairston (Sr.), Marshall Plumlee (Fr.) and Alex Murphy (So.) for the first "big" off the bench for Duke.
Jefferson is wiry and offensive minded.  He has an OK jumper that will need improvement, good athleticism, good motor, touch and is a solid shot blocker.  He needs to add strength to his frame to play PF at the D-1 level and needs to improve his jumper to be a true SF.  I see him playing a good amount next year, especially since directly at the power forward position for Duke, he should only mainly be battling Hairston for time as Marshall Plumlee is more of a center and Alex Murphy is more of a small forward.
It will really come down to match-ups for Jefferson in terms of which position Duke plugs him in.  Some have compared him to ex-Dukie Shane Battier...if he somehow reaches Battier's lofty heights of production, I'll piss myself...and this time not due to over-intake of Grain Belt.
Defensively with his athleticism and frame Jefferson may fit a need in a type of player that is long and athletic, something that Duke has lacked lately, especially last year.  They also lost Michael Gbinije, who transferred to Syracuse following this past season along with the expected departure due to graduation in Miles Plumlee.  Gbinije was thought to be in line next year to fill that longer and more athletic player for Duke, so getting Jefferson after Michael's departure is huge.
All in all this is great news for me, I honestly saw Jefferson going to NC State or Kentucky and had really given up hope that he'd come to Duke.  I was happily shocked to see that I was wrong and that now with Jefferson and Rasheed Sulaimon alone, Duke has the #11 ranked recruiting class according to ESPN.
Oh yeah!  One more thing, suck it Calipari! (<- me living up to Duke fan stereotype)